Ellen's Picks: Week of March 1 and beyond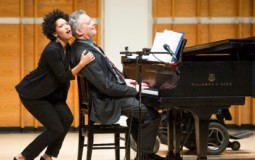 All addresses are in Hudson, unless otherwise indicated.
Thursday, March 1  through Sunday, March 4, 2018
Films at TSL:
Did You Wonder Who Fired the Gun? – "In 1946, my great-grandfather murdered a black man named Bill Spann and got away with it."  So begins Travis Wilkerson's critically acclaimed documentary…which takes us on a journey through the American South to uncover the truth behind a horrific incident.
Western  – "A group of German construction workers installs a hydroelectric plant in rural Bulgaria.  The land awakens their sense of adventure, but tensions mount when Meiinhard, the silent newcomer, mixes with the villagers." – In German, Bulgarian, and English, with subtitles.
Beuys – Thirty years after his death, Joseph Beuys is still one of the most influential artists of his generation. Known for his contributions to the Fluxus movement and his work across diverse media, from happening and performance to sculpture, installation, and graphic art, Beuys's expanded concept of the artist places him in the middle of relevant discourses on media, community, and capitalism   – In English and German with subtitles.
Tall: The American Skyscraper & Louis Sullivan — (2004) – Tall traces the experiments of the early skyscraper architects, especially Louis Sullivan, the Chicago architect (and mentor of Frank Lloyd Wright) who pioneered  a new skyscraper form.  His credo was that "form ever follows function."  His elegant buildings, some still standing and featured in the film, bear out his reputation as the father of the skyscraper. …
Memories of Underdevelopment— (1968) – The film is newly restored.  Tomas Gutierrez Alea's intimate and densely layered film is the most widely renowned work in the history of Cuban cinema.  Left behind by his wife and family in the aftermath of the Bay of Pigs invasion, the bourgeois intellectual Sergio passes his days wandering Havana and idly reflecting, his amorous entanglements and political ambivalence gradually giving way to a mounting sense of alienation.  An adaptation of an innovative novel by Edmundo Desnoes – In Spanish with subtitles
The Insult – (2017) – Nominated for Best Foreign Language Film of 2018 Academy Awards – "In today's Beirut, a civilian dispute blown out of proportion finds Tony, a Lebanese Christian, and Yasser , a Palestinian refugee, facing off in court.  As the media circus surrounding the case threatens a social explosion in divided Lebanon, Tony and Yasser reconsider their values and beliefs…."  
Time Regained – (1999) – Newly restored and remastered.  Raul Ruiz's most ambitious literary adaptation with international film stars, Catherine Deneuve, John Malkovich, Emmanuelle Beart, and Vincent Perez.  The film details Marcel Proust's In Search of Lost Time into a single epic feature.  The film opens in 1922, as Proust is on his deathbed pouring through photographs that summon the events of his life – In French with subtitles
Schedule and tickets at 518-822-8448 or www.timeandspace.org – Time & Space Limited, 434 Columbia Street
Friday, March 2
HWM Free Tasting – Tim Gagnon from natural wine importer Selection Massale, will be pouring red wine from Bordeaux, white wine from the Loire Valley, and a French cider  – Come and taste – Information at 518-828-6411 – 5 to 7 pm – Hudson Wine Merchants, 341 Warren Street
Shannon McNally – Born in New York City but simultaneously roughed up and refined by New Orleans and Mississippi, Shannon McNally has cut a singular path through the musical landscape—one that includes a Grammy nomination and a place on the stage with a who's who of rock, country and soul.  McNally's soulful melodies and gritty, time-stopping vocals made her the embodiment of the Americana genre.  Most recently, she has teamed with the Americana legend Rodney Crowell, who took the producer's chair for her most recent album, "Black Irish," a collection of transcendent folk-blues and country-rock songs that solidify her place as a peerless Americana songwriter and performer – Information at 518-828-4800 or helsinkihudson.com – 21 and over – Doors at 6 pm, show at 9 pm – Club Helsinki, 405 Columbia Street
Saturday, March 3
The Hudson Farmers' Market's indoor market is open for business every Saturday through the month of April.  You will find prepared foods, bread, cookies, meats and cheeses, and more – Information at hudsonfarmersmarketny.com – 10 am to 1 pm – Former Elks Lodge at 601 Union Street (at Union and Sixth Street)
The Metropolitan Opera Company Live in HD presents Puccini's La Boheme – Please note: Start time is 12:30 pm – Information and tickets at 518-822-8448 or www.timeandspace.org   – 12:30 pm – Time & Space Limited, 434 Columbia Street
Exhibition Opening – The Deployment Project and Other Works: Paintings by Marilyn Orner – On view through April 1 – Information at www.510warrenstreetgallery.com or call 518-822-0510 – 3 to 6 pm, 510 Warren Street Gallery, 510 Warren Street
Exhibition Opening – The Eighties – Works by Sandro Chia, Arch Connelly, Rick Dillingham, Vincent Dion, Joan Fitzsimmons, Federico Guzman, Kiyoshi Ike, Antonio Lopez, Gerald Saladyga, and Herman Spoerel – On view through April 1 – Information at www.conceptohudson.com – 6 to 8 pm – Concepto Hudson, 741 Warren Street
Exhibition Opening – Platinum & Palladium: Photographs by Betsy Crowell – "As a kid I was a Private Eye.  Nancy Drew and Dick Tracy were my heroes.  We used tiny spy cameras.  One of mine was worn on my pointing finger.  Not much has changed in 75 years.  The hidden, waiting to be found, and the deeply seen still command my attention.  The pictures in this exhibition were taken with film in small plastic cameras and large, vintage view cameras.  Each is handcrafted in a darkroom using the noble metals, platinum and palladium which yield the most beautifully nuanced and exquisite image." – On view through March 25 – Information at 518-828-5907 or www.johndavisgallery.com – 6 to 8 pm – John Davis Gallery, 362 ½ Warren Street
New York Festival of Song opens the 2018 Classics on Hudson season at Hudson Hall with Protest.  The program's songs—defiant, passionate, ironic—touch on the recurrent hot-button issues in today's news:  the rights of minorities, the plights of exiles and refugees, the state of humanity, and the survival of the earth itself.  In this performance, the singers, composers, and audience take an eloquent stand for equality, peace, and rationality – The chosen songs are by a panorama of composers from Marc Blitzstein and Joni Mitchell to Randy Newman and Mohammed Fairouz –The cast of young, diverse, and brilliant singers includes Shereen Pimentel, Christine Taylor Price, Nicole Flores Thomas, Joshua Blue, Dimitri Katotakis, Jacob Scharfman, and Andre Munn. The singers are accompanied by guitarist Jack Gulielmetti and  pianists Steven Blier and Chris Reynolds – Originally staged by Mary Birnbaum, this performance is directed by Mo Zhou. – NY Festival of Song was founded by pianists Michael Barrett and Steven Blier in 1988.  NYFOS continues to produce a series of thematic song programs, drawing together rarely-heard songs of all kinds, overriding traditional distinctions between musical genres, exploring the character and language of other cultures, and the personal voices of song composers and lyricists.  – Information and tickets at www.hudsonhall.org or call 518-822-1438 – 7 pm – Hudson Hall, Hudson Opera House, 327 Warren Street
Radio Station WGXC, Columbia and Greene Counties' hands-on, community radio station, has extended its fund drive –Donations are accepted by phone at 518-697-7400, or by going to the website at www.wgxc.org/donate and pledging online –Sustaining memberships, whereby a specified amount can be deducted from your credit card each month, are also possible and provide a stream of revenue that helps the station more easily meet its monthly expenses – Help keep the station alive! – To make a pledge or for further information call 518-697-7400 or visit www.wgxc.org/donate – WGXC's Hudson studio is located on the second floor at 704 Columbia Street
Botanica – Vinyl Healing and Good Vibes – With DJ Ephraim Asili  – Soul Funk Disco Afro Reggae Latin Boogie House all Vinyl Dance Party – Information at 518-828-1562 or thehalfmoonhudson.com/events/  – 9 pm – The Half Moon, 48 South Front Street
Sunday, March 4
Bolshoi Ballet HD presents The Flames of Paris – Please note: Start time is 1 pm – Information and tickets at 518-822-8448 or www.timeandspace.org – 1 pm, Time & Space Limited, 434 Columbia Street
Sunday Salon Series – Thomas Cole National Historic Site is celebrating the bicentennial anniversary of Thomas Cole's arrival in America from England in 1818. The Sunday Salon Series is part of the celebration.  – The Salon Series, now in its 15th year, presents today's most engaging speakers on topics relating to American landscape painting,  This Sunday it presents Jennifer Raab, Ph.D., Associate Professor, History of Art at Yale University, who will speak on "Frederic Church in Thomas Cole's Catskills."     For information, or to reserve a seat, visit thomascole.org/events – 2 pm – The New Studio, Thomas Cole National Historic Site, 218 Spring Street, Catskill
Tuesday, March 6
Helsinki Open Mic – Try out new material on the big Helsinki stage – Hosted by Cameron Melville and Ryder Cooley – Information at 518-828-4800 or helsinkihudson.com – Sign-up begins at 6:30 pm – Performance from 7 to 10 pm – Club Helsinki, 405 Columbia Street (Call ahead to confirm!)
Wednesday, March 7
The Future of Local Journalism – A panel discussion with career journalists and educators – Sponsored by The Germantown Library and The Berkshire Edge – "An important community conversation…." – Panelists include  Seth Rogovoy, The Rogovoy Report; Enid Futterman, Imby.com; Debby Mayer, The Columbia Paper; Karen Katz, Germantown Central School; Karrie Allen, Bard College @ Simon's Rock; Jimmy Buff, Radio Kingston; David Scribner, The Berkshire Edge; and Chris Hewitt, Country Wisdom News – Moderated by Roger Connor, Hudson Valley News Network – Information at 518-537-5800 – 7 to 9 pm – Columbia-Greene Community College, 4400 Route 23,  Professional Academic Center, Saland Forum, Room 614.
ONGOING EXHIBITIONS
* Bridges Past and Present: Crossing the Hudson River – By artist Otto Miranda  – Sixty-three watercolors of bridges from the 1800's to the present that pass over the Hudson River from New York City to the river's beginning in the Adirondack Mountains at Lake Henderson's Tear of the Clouds – The bridges represented include vehicle, railroad, pedestrian bridges, and even a troop bridge.   The exhibit is open for viewing during library open hours and is on view through February 28.  School groups are also invited to view this important local interest exhibition for discussions on history, engineering and art – Information at hudsonarealibrary.org or call 518-828-1792, x 101 – Hudson Area Library, 51 North Fifth Street (corner of State Street)
* Katrina Hude: Harmonic Cognizance – The artist says: "Pattern studies and visual arrangements are my sanctuary.  The investigation of harmony in pattern is the study of nature and of our sentient needs." – The exhibition is on view through March 25, except for the month of February when the gallery is closed – Information at thompsongirouxgallery.com  or call 518-392-3336 – Thompson Giroux Gallery, 57 Main Street, Chatham
* Colin Brant: People of the Forest; Ruby Palmer: Artworks – Information at www.baileygallery.com or 518-828-6680 – On view through March 18 – Jeff Bailey Gallery, 127 Warren Street
* The BlkQueer Romantics – The Tenth and Hudson Hall present an exhibition that announces the arrival of the magazine that pays homage to Hudson Valley landscape, art, history and culture as explored through a contemporary queer lens of color – On view through March 18 – Information at 518-822-1438 – Hudson Hall, Hudson Opera House, 327 Warren Street
For more information on Columbia County events, visit www.columbiacountytourism.org    All content herein copyright 2018 Ellen Thurston    [email protected]