Gallatin offers visitors a wide range of attractions within a short distance.
Lake Tagkanic State Park: Nestled next to Lake Taghkanic in the rolling hills and lush forests of Columbia County, offers a wonderful variety of recreational activities. The park has tent and trailer campsites and cabin and cottage camping facilities. Large trucks, RVs and campers can enter from the Route 82 entrance. It also features two beaches, picnic areas, boat launch sites, rowboat, paddleboat and kayak rentals, playgrounds, sports playing fields, a rentable pavilion, and newly renovated recreation hall and showers. In addition, the park has hiking, biking, swimming, fishing, hunting, cross-country ski and snowmobile trails. Ice skating and ice fishing are permitted when conditions are appropriate. Please call the park office at (518) 851-3631 to check ice thickness.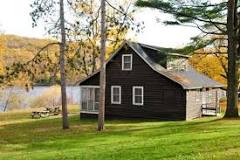 Harlem Valley Rail Trail: The Harlem Valley Rail Trail currently has two sections totaling 15 paved miles through stunning rural Dutchess and Columbia County landscapes. Since the mid-1980's, the Harlem Valley Rail Trail Association has dreamed of a 46-mile rail trail in the Harlem Valley and Taconic Hills of eastern New York. The first segment of the trail opened in 1996.
Since then, the trail has grown in 1997, 2000, and 2005. Another 13 miles of abandoned rail bed are in different development stages, and most of another 18 miles have been acquired to take the Trail north into the Village of Chatham.

Olana: Former home of the most famous of the Hudson River School artists, Frederick Church. ?Olana is a must visit for anyone visiting the area. ?It is an extraordinary house with an exceptional collection of art by Church and works he collected from Europe. The house, with its spectacular views of the Hudson River is a work of art itself. For more information visit: www.olana.org
FASNY Firefighting Museum: There are over 60 fire engines on display at this exceptional museum. http://www.fasnyfiremuseum.com/
City of Hudson: Hudson, encircled by the Town of Greenport, is an exceptionally well-preserved and dynamic town. The capital of Columbia County, Hudson is home to an array of antique, design and designer shops, restaurants and music venues. http://gotohudson.net/
Thomas Cole House: Frederick Church's mentor and Hudson River School artist Thomas Cole's historic home is situated across the Rip Van Winkle bridge in Catskill. http://www.thomascole.org/
Lindenwald, Home of President Martin Van Buren: Van Buren ran two presidential campaigns from this wonderful house situated on the old Albany post road. http://www.nps.gov/mava/index.htm
Kaaterskill Falls: One of the oldest tourist attractions in the Hudson Valley, these spectacular falls are among the tallest in New York State. A 20 minute hike off Route 23B which climbs up into the Catskill Mountains. http://en.wikipedia.org/wiki/Kaaterskill_Falls
North South Lake: An exceptionally beautiful park in summer or winter with its two lakes was a popular subject of Hudson River School artists. A short hike from the camp grounds takes the visitor to the former location of Catskill Mountain House. Once a spectacular retreat for the wealthy, but now long gone. The exceptional views of the Hudson Valley make this a must see site. http://www.dec.ny.gov/outdoor/24487.html
Chatham Fairgrounds (Columbia County Fair): Host to a range of events including the Columbia County Fair it is always worth looking at the events schedule. http://www.columbiafair.com/index.php
Old Rhinebeck Aerodrome: Watch airshows with world World War One biplanes and other historic planes. One of the best attractions in the Hudson Valley. Taking a plane ride over the Hudson river is a highlight of any Hudson Valley visit. http://www.oldrhinebeck.org/
Clermont: Built between 1740-50 by Robert Livingston, Clermont is a wonderful historic home the bank of Hudson. Clermont and its gardens are the location of a wide range of events during the year. http://www.friendsofclermont.org/about-us/
Montgomery Place: A magnificent Federal Mansion created by noted architect A.J. Davis with impressive gardens. http://www.hudsonvalley.org/historic-sites/montgomery-place
Dutchess County Fairgrounds: Home to a range of events during the year the Dutchess County Fairgrounds are best known for the Dutchess County Fair which always offers a great day out. http://dutchessfair.com/
Woodstock: Across the river and 20 miles south of Greenport is the town of Woodstock, NY.  Although, it was not the location of the celebrated concerts, it has a counter-cultural and artistic vibe. http://woodstockguide.com/
Kinderhook: A beautiful small town a few miles north of Greenport. http://en.wikipedia.org/wiki/Kinderhook_%28town%29,_New_York