This 26 acre site accesses a quarter-mile stretch of the Roeliff Jansen Kill.  A short walk from the new car parking area brings visitors to the river, a refuge for bird watchers, nature lovers and anglers.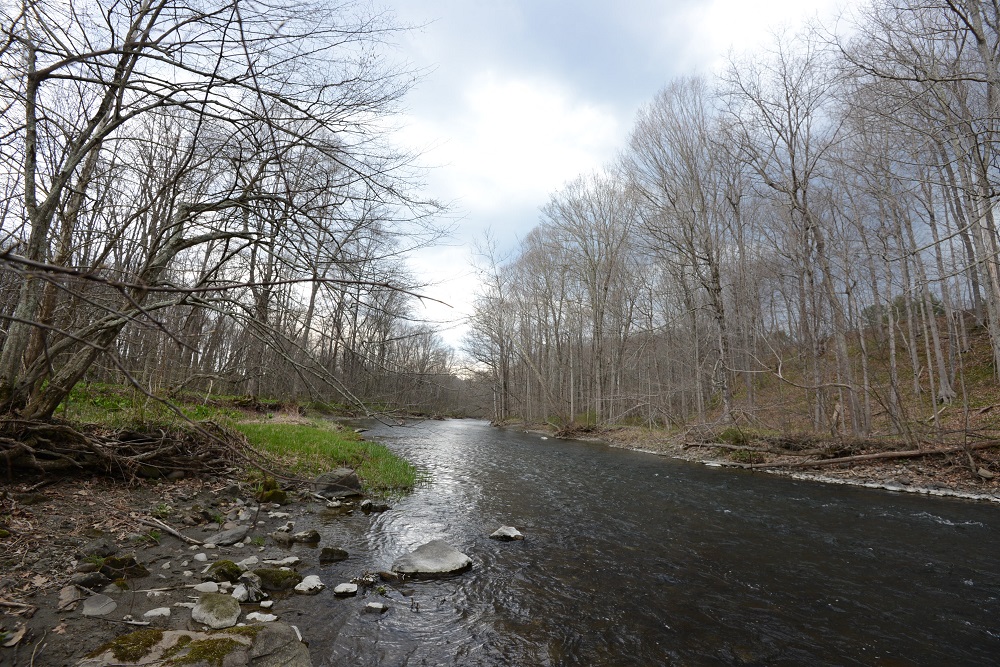 The magic of the river is plain to see.  Wide enough for fly fishing and stocked with trout by the New York State Department of Environmental Conservation, the river is an exceptional resource where anglers are welcome.
For bird watchers, the conservation area and the hillside provides vantage points to see soaring hawks and woodland birds.  The riverside habitat is home to a multitude of plants, tree species and wildlife.
In addition to the conservation area, local parks include:
Lake Taghkanic State Park
Lake Taghkanic State Park, nestled next to Lake Taghkanic in the rolling hills and lush forests of Columbia County, offers a wonderful variety of recreational activities. The park has tent and trailer campsites and cabin and cottage camping facilities. Large trucks, RVs and campers can enter from the Route 82 entrance. It also features two beaches, picnic areas, boat launch sites, rowboat, paddleboat and kayak rentals, playgrounds, sports playing fields, a rentable pavilion, and newly renovated recreation hall and showers.
In addition, the park has hiking, biking, swimming, fishing, hunting, cross-country ski and snowmobile trails. Ice skating and ice fishing are permitted when conditions are appropriate. Please call the park office at (518) 851-3631 to check ice thickness or visit http://parks.ny.gov/parks/38/details.aspx.
Harlem Valley Rail Trail
The Harlem Valley Rail Trail currently has two sections totaling 15 paved miles through stunning rural Dutchess and Columbia County landscapes. Since the mid-1980's, the Harlem Valley Rail Trail Association has dreamed of a 46-mile rail trail in the Harlem Valley and Taconic Hills of eastern New York. The first segment of the trail opened in 1996. For more information visit: http://hvrt.org/.